Thank you to the individuals and organizations who have brought African Heritage Month to life through events at the Library. Meet some of our highlighted partners for 2020:
Abdoulaye Barry
Team Manager at TD Insurance
Chair of The Minorities at TD Insurance Halifax
Co-Chair of The Minorities at TD Atlantic region
My journey at TD Insurance started 5 years ago as an immigrant and young graduate with a bachelor's degree in science, major in biology and minor in psychology. I was seeking opportunities to learn and make a career for myself. TD opened its doors to me and within my first year, I started to understand TD's culture of putting our customers, colleagues and communities at the forefront of everything we do.
Throughout my journey, I was heavily involved in various committees within the business with the mindset of making an impact. My passion for diversity and inclusion really started when I joined the Visible Minority committee back in 2017. I quickly identified the opportunity to raise cultural awareness through celebration, recognition and open dialogue on various topics that create a culture of inclusion.
Chairing committees with a strategy to create an inclusive working environment by raising awareness through various workshops and increasing visible minorities in leadership was essential to making a long-lasting impact. This vision aligned with TD's shared commitments on embracing diversity & developing our colleagues. I strongly believe in the diversity of skills and mindset as well as developing my colleagues so everyone can have the opportunity to reach their full potential regardless of race, gender, sexual orientation, religion, socio-economic status, etc. Working for an organization that is heavily involved with supporting community initiatives is very important to me. I leverage the opportunity to carry the TD torch with me everywhere and represent the values of the TD shield proudly.
African Heritage Month (AHM) is a time to celebrate and recognize inspiring heroes of African descent that created the foundation of what we see today. It's the time to reflect on the past but also engage in conversations that will shape our future. As we celebrate AHM, let's continue to build ties with our communities by giving back, and empower and inspire the younger generations who will be the leaders of tomorrow.
Let's celebrate Black achievements 365 days a year and continue to share knowledge, skills, and really embrace diversity by being open-minded and create inclusive environments no matter where we are whether it's at work, school, home or out in the community.​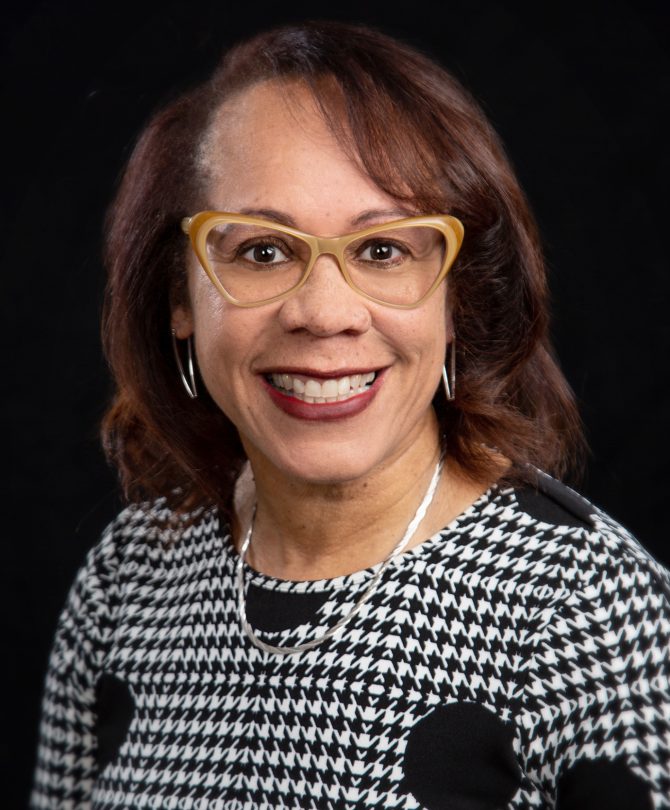 Karen Hudson
Principal, Auburn Drive High School
Co-Chair, Africentric Learning Institute
"My interest is in supporting youth and addressing issues of social justice, civil rights and international development."
Karen is involved in community and education development, and her church. She has strong community and family ties, which forms her foundation. Karen has volunteered on several Boards, such as OXFAM Canada, East Preston Day Care Centre, Cherry Brook United Baptist Education Committee, Black Arts Network Dialogue, as Past President of the Black Educators Association, and Nova Scotian Alliance of Black School Educators, to name a few. Karen has a Master's Degree in Administration Leadership, Literacy, Curriculum Studies and Environmental Studies. She has worked for over 25 years with the Halifax Regional Centre for Education, as a teacher, Vice-Principal, and now, as Principal at Auburn Drive High School for the past 6.5 years.
Karen was the recipient of the Queen II Diamond Jubilee Medal and a Service Educator Award from the Nova Scotia Teachers Union (NSTU). In 2019, the Leadership Partnership recognized Karen as one of Canada's Outstanding Principals.
Presently, Karen is Co-Chair of the Africentric Learning Institute, Advisory Member of the Indigenous Blacks and Mi'kmaq Program, founding member of Connecting to Africa, high school representative of the Nova Scotian Alliance of Black School Educators, Nova Scotia School Athletic Federation (NSSAF), and African Nova Scotian representative for the Public School Administrators Association of Nova Scotia (PSAANS). Karen was instrumental in starting the Africentric Cohort at Auburn Drive High for students who identify as African descent.
"African Heritage Month is a time to recognize individuals who have fought and spoken out, and celebrate our rich history and culture. It is a chance to honour our ancestors and trailblazers that have created a legacy for us. It is a pivotal moment to speak truth to untold stories, histories, and legacies that continue to be uncovered."
Lou Gannon
President, African Nova Scotian Music Association
A highly experienced leader (37 years), with a comprehensive understanding of facility management, strategic planning, organizational change, and providing leadership, Lou offers guidance and overall direction to the ANSMA Board of Directors and Advisory Committees. Lou has extensive knowledge of and involvement with African Nova Scotian communities.
Lou is interested in photography, event management and coordination, and volunteering. He has been honoured with the The AUBA/CIAU Volunteer Award; The Joel Jacobson CIS Voluntary Appreciation Award; 
CACE Afrocentric Learning Institute; Certificate of Achievement from HRM Citizen's Police Academy; The Minister of State/ (Jean Augustine, P.D., M.P.) (Multiculturalism and Status of Women) - Certificate of Recognition for outstanding contribution to the Black communities of Nova Scotia; the Senate of Canada 150th Anniversary Medal; the Queen Elizabeth II Diamond Medal; and has been in inducted into the W. P. Oliver Wall of Fame at the Black Cultural Centre in Dartmouth.
"African Heritage Month gives us a chance to remember all the great events that were done by Africans."
Natasha Thomas
Creative Director, Beyond Imagination Puppet Crew
With roots in the historical community of Preston, Natasha is African Nova Scotian of more than 10 generations ascent. Natasha is a vocalist who enjoys songwriting, playing the tenor saxophone, creating musicals for the Puppet Crew, and acting. She appeared in Jeri Brown Opera Company: "Winter Solstice: Souls of Sirens" (2019); Charles Taylor Theatre: "Viola the Original Musical" (2018); and Broadway In the Hood: "The Wiz" (2017). She is a graduate of NSCC, Music Arts program.
"African Heritage month means that I and others can learn about my roots and the diversity of beliefs and traditions within my culture. It's a time to publicly celebrate my ancestors' struggles and victories. It means as people we can get through anything and still stand strong. It gives me the strength to keep moving forward no matter the obstacles, and I am proud to be an African Nova Scotian."
This month, Natasha is most looking forward to working with the puppets and family members to bring Beyond Imagination Puppet Crew's African Heritage cantata to life.